When I was offered the opportunity to be sent a finished copy of Wonder Woman Warbringer by Leigh Bardguo I jumped at the chance. This book was one of my most highly anticipated releases of 2017, so of course I was more than happy to get the chance to have a copy sent to me for review.
I have always been a fan of the DC universe, although I am more a Batman and Harley Quinn fan.
I wasn't as familiar with Diana prior to this year. Hubby and I went to see the Wonder Woman movie.
This work was one of my most highly anticipated releases of the year and I was thrilled to be given the opportunity to get a copy to review.
Diana lives on the island of the Amazons. Female warriors that cried out to a goddess as they bravely died in battle. The island is secluded from man and Diana was crafted from clay by her mother, the queen, who wanted a daughter. Diana is the princess of the island and a teen.
This origin story is a new one, and NOT a novelization of the movie. Huge differences, with the biggest one being that Diana in Warbringer rescues a teen girl, Alia, instead of a man in the movie version.
Alia is a Warbringer, direct descendant of Helen of Troy, meant to bring about war and ruin. Alia doesn't want that fate. Diana finds out about a fountain that can cleanse her of this fate forever. They begin their quest, stopping in New York for some funny moments, meeting friends and family of Alia, and culminating in their trip to southern Greece.
The "big bad" was different in this as well, not Ares, but someone a little bit closer to the group.
I loved the friendship bonds and diversity broadcasted here, racial as well as sexual orientation. I also loved that Diana wasn't having any of the male harassment dished out to her. Talk about an empowering read!
I would recommend this to anyone interested in reading a younger origin story of Wonder Woman before she came to be how we all know her now. A teen on a quest of finding who she is. Also for anyone looking for a strong story about friendship, sisterhood, sacrifice, and of course empowerment.
I was able to finish this in time for the new Justice League movie coming out Friday (Hubby and I have tickets for Saturday) and I am so happy about that!
Goodreads Synopsis:
Daughter of immortals.
Princess Diana longs to prove herself to her legendary warrior sisters. But when the opportunity finally comes, she throws away her chance at glory and breaks Amazon law—risking exile—to save a mortal. Diana will soon learn that she has rescued no ordinary girl, and that with this single brave act, she may have doomed the world.
Daughter of death.
Alia Keralis just wanted to escape her overprotective brother with a semester at sea. She doesn't know she is being hunted by people who think her very existence could spark a world war. When a bomb detonates aboard her ship, Alia is rescued by a mysterious girl of extraordinary strength and forced to confront a horrible truth: Alia is a Warbringer—a direct descendant of the infamous Helen of Troy, fated to bring about an age of bloodshed and misery.
Together.
Two girls will face an army of enemies—mortal and divine—determined to either destroy or possess the Warbringer. Tested beyond the bounds of their abilities, Diana and Alia must find a way to unleash hidden strengths and forge an unlikely alliance. Because if they have any hope of saving both their worlds, they will have to stand side by side against the tide of war.
ABOUT THE AUTHOR
LEIGH BARDUGO is the #1 New York Times bestselling and USA Today bestselling author of Six of Crows, Crooked Kingdom, and the Shadow and Bone Trilogy. She is the first author in the DC Icons Series, where the DC Comics superhero icons are written by megastar young adult authors. Forthcoming books include Batman by Marie Lu, Catwoman by Sarah J. Maas, and Superman by Matt de la Peña.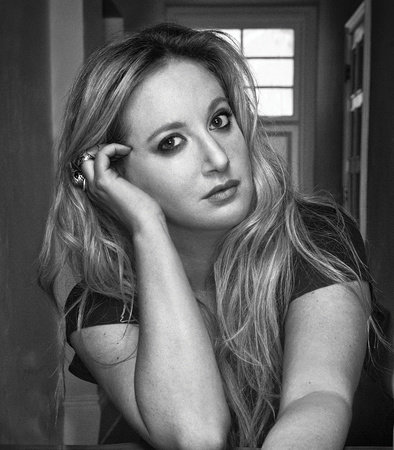 Photo: © Leigh Bardugo
If you are interested in purchasing for yourself or your library you can do so here. 
I received my hard copy of Wonder Woman: Warbringer from Blogging For Books in exchange for this honest review.